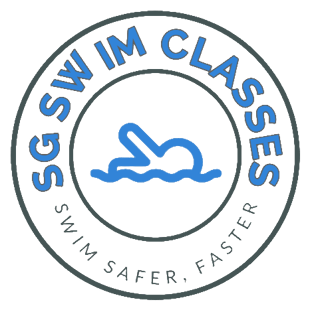 Bishan Swimming Lessons
Our small group swimming classes are conducted at Bishan Swimming Complex throughout the week. Our Bishan swimming lessons are tailored to children of all ages and skill levels, and we provide a safe and supportive environment for learning. Our experienced instructors use a structured approach to teaching, starting with the basics and gradually progressing to more advanced techniques.
Our classes are generally during these timings:
Class Schedule:
Wednesday
3.00pm, 3.45pm, 4.30pm, 5.15pm

Friday
3.00pm, 3.45pm, 4.30pm, 5.15pm
Saturday
9.00am, 9.45am, 10.30am, 11.15am, 3.00pm, 3.45pm, 4.30pm, 5.15pm
Sunday
9.00am, 9.45am, 10.30am, 11.15am, 3.00pm, 3.45pm, 4.30pm, 5.15pm
Nearest MRT
Bishan MRT (NS17/CC15) 450m

Marymount MRT (CC16) 1.17km

Lorong Chuan MRT (CC14) 1.72km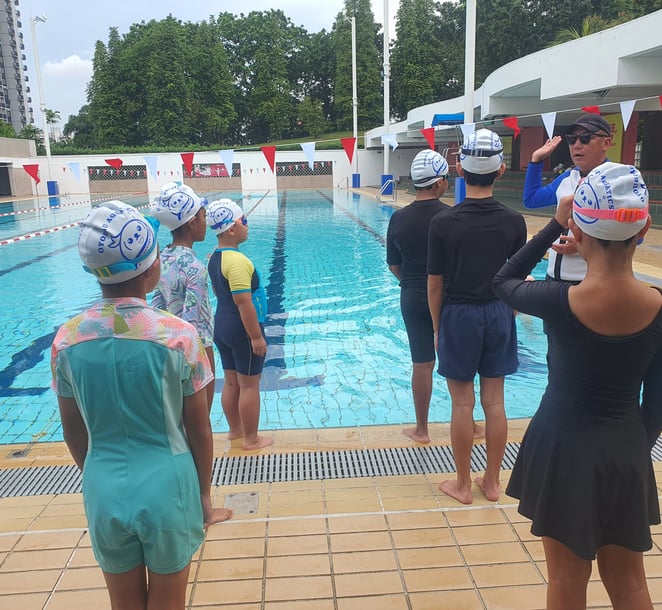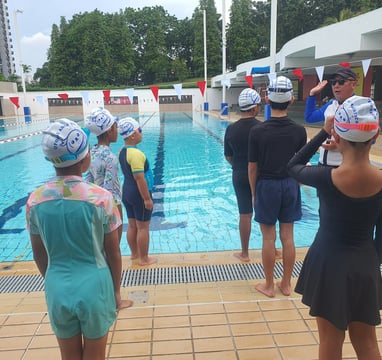 How to get to Bishan Swimming Complex?
1 Bishan Street 14, Singapore 579778
By Public Transportation:
Take the MRT to Bishan Station (NS17/CC15).

Take Exit C and walk to the bus interchange.

Take bus 53, 55, 58, 156, 162, 162M, or 410 and alight at either Opp Blk 217, Blk 210, Bishan Stadium, or Opp Bishan Stadium.

Walk towards Bishan Street 14 and turn into the pathway beside Blk 141.

Continue straight and you will reach Bishan Swimming Complex.
By Car:
Enter Bishan Street 14 from either Bishan Road or Braddell Road - through Bishan Street 11.

Drive straight and turn into next to Girl Guides Singapore (9 Bishan Street 14)

Parking is available just outside Bishan Swimming Complex.
Walking
4 - 7 mins from Bishan MRT Station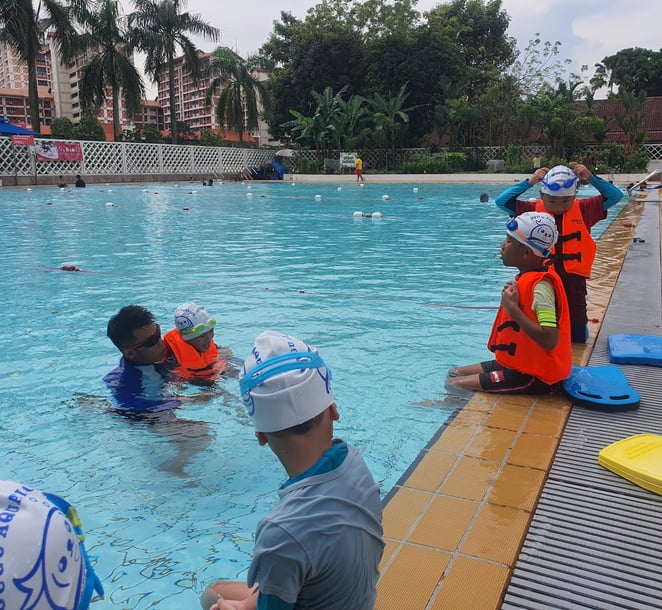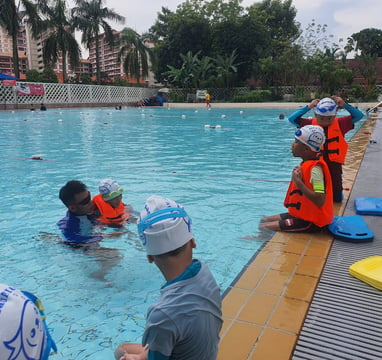 We offer group and private lessons at Bishan Swimming Complex, and our classes are designed to be fun and engaging while promoting water safety and skill development.
We conduct classes for age group from 3yo up and classes are usually structured based on age and ability to ensure max learning, safety and improvements. In general classes are spit into, toddler swim classes (3y to 6yo), Children's swim classes (7yo to 12yo) and ability of Beginner's, Intermediate, Advanced classes.
Contact us today to learn more about our classes and how we can help your child become a confident and skilled swimmer.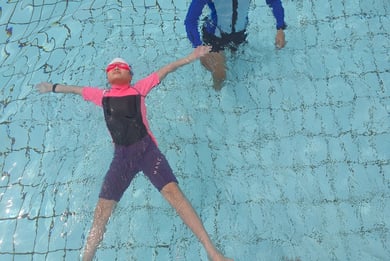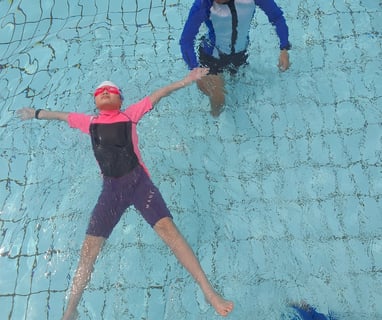 Swimming Complex Details
Operating Hours:
Tuesday, Saturday, Sunday
8am - 9.30pm

Monday, Wednesday. Friday
6.30am - 9.30pm

Thursday CLOSED (except Public Holidays: 8am - 9.30pm)
Weekly Maintenance:
Thursday- Full Day
Facilities:
Competition Pool (50m Pool)
Teaching Pool (Depth of 1.0m)
Wading Pool (Depth of 0.3m - Water Play)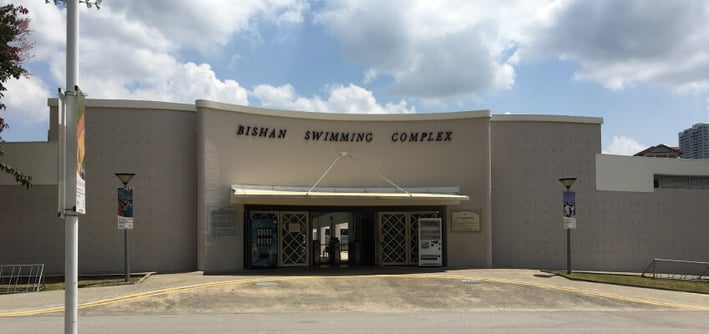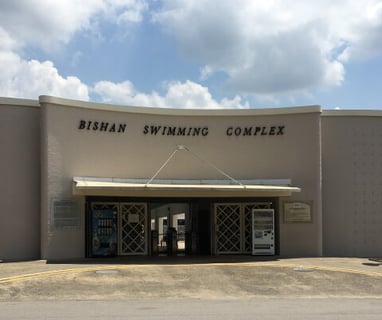 About The Swmming Complex
Visitors can easily access the Bishan Swimming Complex as it is located within walking distance from Bishan MRT station. The complex is situated alongside other sports facilities such as Bishan ActiveSG Stadium and Bishan Sports Hall. Moreover, the Bishan-Ang Mo Kio Park, one of the largest urban parks in Central Singapore, is situated just across the road.
The swimming complex opened in December 1991, offers a perfect location for visitors to indulge in a refreshing swim after exercising at the nearby amenities. Additionally, there is a bakery located within the swimming complex for those who are looking for a quick bite. Visitors can also explore the numerous dining options available at the Junction 8 Shopping Mall, which is located nearby.
Over the years, many upgrades have been made to the swimming complex such as children shower facilities, new adult shower facilities and CVDDS drowning prevention system.
Small Group Swimming Lessons
Age – 2.5+ onwards
Max number of students: 6
Frequency of classes: Weekly
Duration: 30 - 45mins
$120/ Month
Any Age
Max number of students: 2/3
Frequency of classes: Weekly
Duration: 45mins
S$360/ Month
Joining a trial class is an excellent way to experience our swimming lessons and determine if they are the right fit for you. It allows you to get a feel for our teaching style and meet our coaches before committing to a weekly lessons.
During a trial class, you can ask questions, receive feedback on your child's swimming ability, and get a sense of how quickly you they progress on their swimming skills.
It also gives our coaches the opportunity to assess their abilities and recommend the appropriate classes for their skill level. By joining a trial class, you can gain confidence in your swimming abilities and make an informed decision about whether our swimming lessons are the right choice for you.
A one-month trial class offers numerous advantages for parents and children when choosing a swim school and coach. It allows children to explore their interests, assess the fit of the activity, and adjust to the new environment. For parents, it provides an opportunity to make an informed decision and ensure the chosen school and coach activity aligns with their child's needs.
By embracing the trial period, parents and children can confidently embark on a journey towards an enriching and enjoyable swimming experience with us.
Trial Class is Charged at One Month Fee
Age – 4+ onwards
Max number of students: 6
Frequency of classes: Weekly
Duration: 45mins
$120/ Month