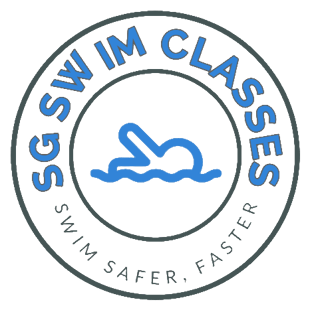 Our Swimming Coaches
Our school is founded on the belief that swimming is a vital life skill and a lifelong pursuit that promotes fitness, safety, and joy. Our coaches are certified with NROC - SportsSg and SSI and conduct small group classes are conducted at Bishan Swimming Complex and Delta Swimming Complex, throughout the week.
At the heart of our operation is a dedicated team of certified coaches with a rich background in swimming and education. They embody our commitment to providing a safe, supportive, and engaging learning environment for all students, regardless of their age or skill level. Our coaches are not just teachers; they are mentors, motivators, and role models who inspire our students to embrace the love of swimming.
Our curriculum is carefully designed to cater to every stage of a swimmer's development, from infants and toddlers to older children. We offer a structured progression pathway, ensuring students build on their skills over time and advance at their own pace. Whether it's introducing a baby to the water for the first time or helping an older child perfect their stroke techniques, we are committed to making every lesson enjoyable and rewarding.
But we are more than just a swim school. We are a community that values water safety, personal growth, and the pure fun of swimming. We believe in the power of swimming to build self-confidence, resilience, and respect for the water.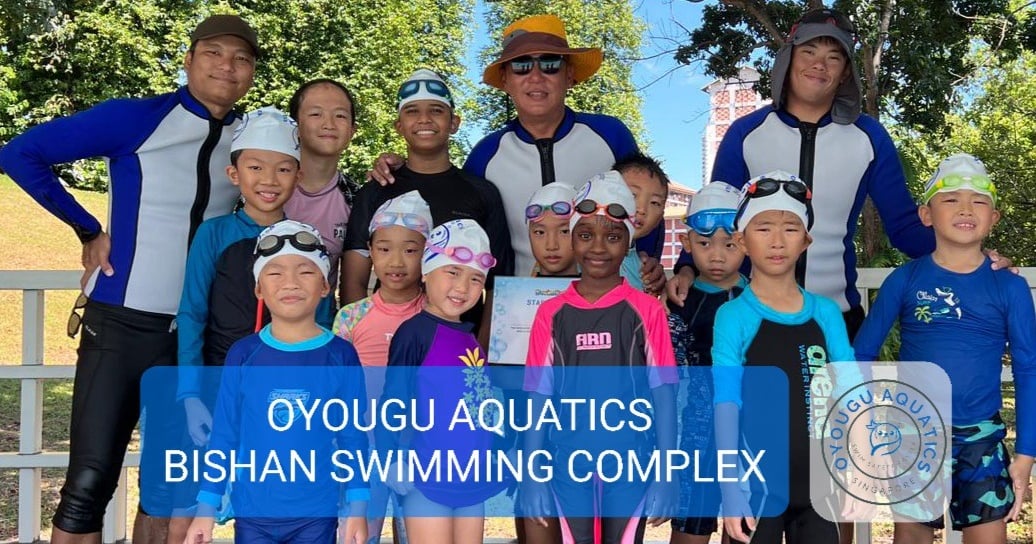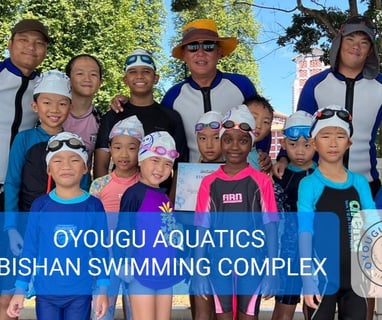 Our mission
Our mission is to provide exceptional swimming lessons for infants, toddlers, and children in a safe, fun, and supportive environment. We are committed to delivering a comprehensive, structured curriculum tailored to each child's unique needs and abilities. Our experienced, certified instructors are dedicated to promoting water safety, teaching proper swimming techniques, and encouraging personal growth and self-confidence in every student
Our vision
Our vision at is to become the leading provider of quality swimming education in Bishan and the surrounding areas. We aspire to cultivate a community that embraces the joy of swimming and values water safety. Our goal is to empower every student, regardless of age or skill level, with the confidence, competence, and enthusiasm to enjoy the water safely, fostering a lifelong love for swimming.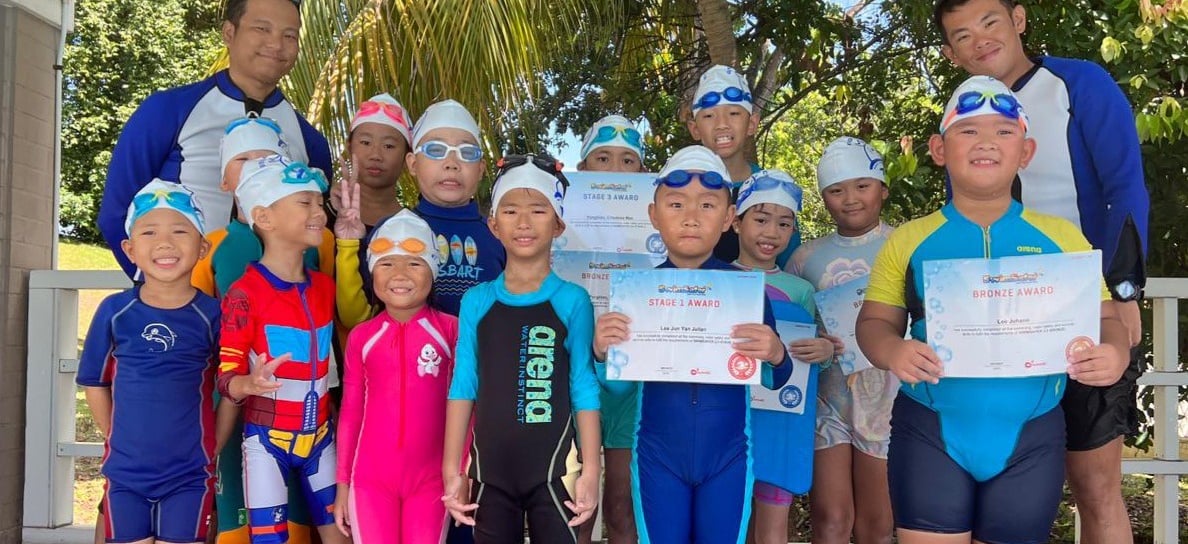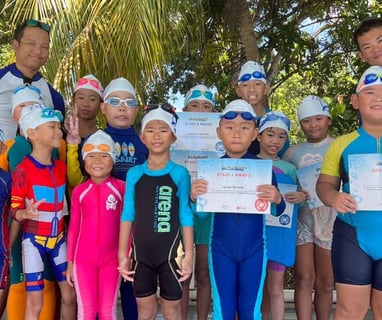 Our team
our team of coaches forms the heart of our swimming programs. Each of our coaches is certified, highly skilled, and passionate about teaching swimming to individuals of all ages and skill levels.
Our coaches bring a wealth of experience to the pool, with backgrounds ranging from competitive swimming to early childhood education. They are not only experts in water safety and swimming techniques but also adept at creating a fun, engaging, and supportive learning environment. Their teaching methods are grounded in positive reinforcement, ensuring that every student feels valued and encouraged.
What truly sets our coaches apart is their dedication to our students' success. They understand that each student is unique, and they tailor their teaching approaches to suit the individual needs and abilities of each swimmer. Their goal is not just to teach swimming, but also to instill a love for the sport and the confidence to enjoy the water safely.
We are proud of the positive impact our coaches make in our students' lives, and we are confident that they will provide an exceptional learning experience for every student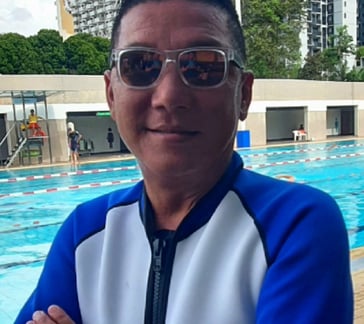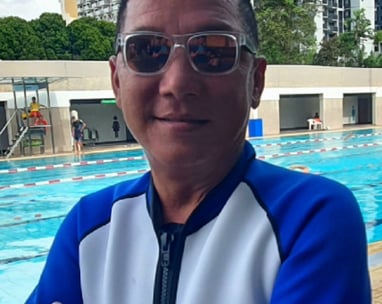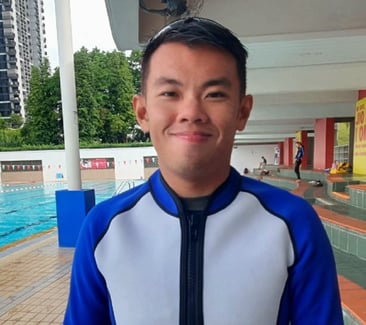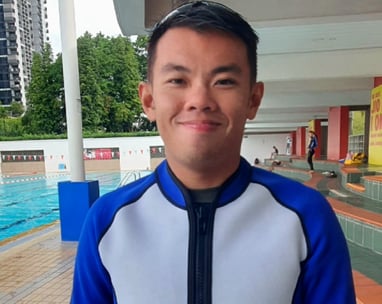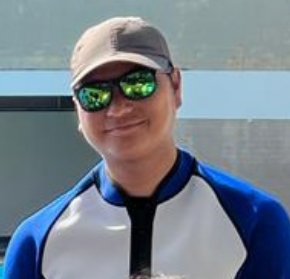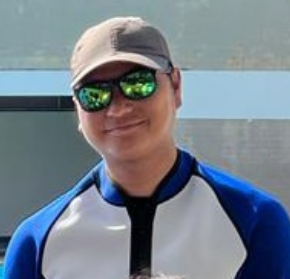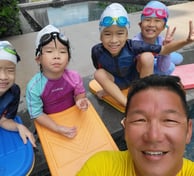 Meet Coach Jimmy, a beloved figure among his students for his easy-to-follow teaching methods and dynamic approach to swimming classes. Known for his patience and ability to adapt to different learning speeds, Coach Jimmy ensures that all his students develop proper swimming techniques.
One of Coach Jimmy's standout qualities is his patience when working with students who require more time to grasp swimming skills. He understands that everyone learns at their own pace and embraces the challenge of helping each individual succeed. By repeating techniques consistently, Coach Jimmy ensures that students have ample opportunities to practice and perfect their skills. This patient approach creates a supportive environment where students feel comfortable and motivated to improve.
In addition to his patience, Coach Jimmy excels at keeping the class entertaining and engaging. He understands that a lively and dynamic atmosphere enhances the learning experience. Through various interactive methods, such as games, challenges, and team exercises, he injects fun into the swimming lessons. By making the class enjoyable, Coach Jimmy ensures that his students remain motivated and eager to participate, even when faced with difficult or repetitive tasks.
Coach Jimmy's ability to strike a balance between patience and entertainment is a testament to his effectiveness as a swimming instructor. He understands that a positive and enjoyable environment is crucial for students to fully engage and absorb the lessons. By combining his teaching expertise with a dynamic teaching style, Coach Jimmy fosters a love for swimming among his students while helping them develop and refine their swimming techniques.
In conclusion, Coach Jimmy's teaching methods have earned him a reputation as a beloved and effective swimming coach. His patience and willingness to adapt to different learning speeds ensure that every student receives the attention they need to succeed. Through a combination of repetition and an entertaining class atmosphere, Coach Jimmy guides his students towards mastering proper swimming techniques. Thanks to his dedication and ability to create an enjoyable learning environment, Coach Jimmy continues to inspire and motivate his students on their swimming journey.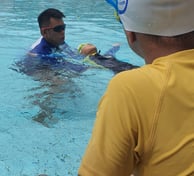 Coach Chun Kang is not just a swimming instructor; he is a friend and mentor to the beginner swimmers he works with. His friendly and approachable nature, coupled with his sense of humor, makes him a hit among the kids. They eagerly anticipate his classes, knowing they will have a great time while learning to swim.
Coach Chun Kang understands the importance of building trust and rapport with his students. He knows that when kids feel comfortable and enjoy the learning process, they are more likely to thrive. To achieve this, he bonds with the children through games and jokes, creating a fun and relaxed atmosphere. By connecting with them on a personal level, Coach Chun Kang establishes a strong foundation of trust, enabling the children to feel secure and confident during their swimming lessons.
Patience is one of Coach Chun Kang's greatest virtues. He recognizes that each child learns at their own pace and tailors his teaching approach accordingly. He patiently guides the beginners through the fundamentals of swimming, allowing them the time they need to grasp the techniques. Whether it's learning to kick, float, or perform basic strokes, Coach Chun Kang ensures that no child feels rushed or overwhelmed. His patient demeanor creates a supportive environment where kids feel encouraged to take risks and grow at their own speed.
In addition to being patient, Coach Chun Kang is adept at boosting the children's confidence. He understands that praise plays a vital role in a child's development, and he offers genuine and well-deserved commendations for their efforts and achievements. By consistently acknowledging their progress, Coach Chun Kang instills a sense of pride and self-assurance in his students, motivating them to push their boundaries and reach new milestones.
While Coach Chun Kang is friendly and warm, he also knows when to be firm. Safety is paramount in swimming, and he ensures that children adhere to his instructions to learn in a secure environment. When necessary, he sets clear boundaries and enforces discipline, teaching the kids the importance of following rules and guidelines.
Coach Chun Kang's ability to combine friendliness, patience, and firmness makes him an exceptional coach for beginner swimmers. His jokes and friendly nature establish a strong bond with the children, creating a trusting relationship. By allowing kids to learn at their own pace and building their confidence through praise, he nurtures their growth and development. Additionally, Coach Chun Kang's firmness when needed ensures a safe and structured learning experience. Thanks to his well-rounded approach, Coach Chun Kang leaves a lasting positive impact on the young swimmers he mentors.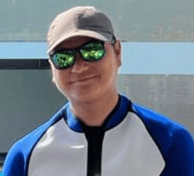 Coach Justin Phua excels in toddler and learn-to-swim programs. His patience, adaptability, and engaging teaching methods create a safe and enjoyable environment for young swimmers. By focusing on water safety and building confidence, he lays a strong foundation for their swimming journey. Coach Justin's commitment leaves a lasting impact, fostering a lifelong love for swimming in his students.
One of Coach Justin's greatest strengths lies in his infinite patience and adaptability when working with toddlers and beginners. He recognizes that each child is unique, requiring individualized attention and support. With a calm and gentle demeanor, Coach Justin creates a nurturing atmosphere where children feel comfortable exploring the water at their own pace. He understands that some children may initially display apprehension or fear, and he skillfully adapts his teaching methods to address their specific needs, ensuring a positive and progressive learning experience.
Creating Engaging and Playful Lessons:
Coach Justin knows that young children learn best when they are engaged and having fun. With a keen understanding of early childhood development, he designs lessons that are not only educational but also entertaining and age-appropriate. By incorporating games, toys, and interactive activities, Coach Justin captivates the attention of his young swimmers, making every lesson an enjoyable adventure. Through play, children develop essential water skills while building confidence, laying a solid foundation for future swimming ability. Coach Justin places a strong emphasis on water safety in his toddler and learn-to-swim programs. He ensures that children understand the importance of safety rules and practices, such as staying within designated areas, listening to instructions, and being aware of their surroundings. By instilling these habits early on, he equips children with vital life-saving skills that will stay with them as they continue their swimming journey.
Coach Justin focuses on fostering a sense of confidence in his young swimmers. He celebrates every milestone, no matter how small, and provides constant encouragement and support. This positive reinforcement empowers children to believe in themselves and their abilities, helping them overcome challenges and reach new heights in their swimming development.